10 January 2013 by Evan Dobos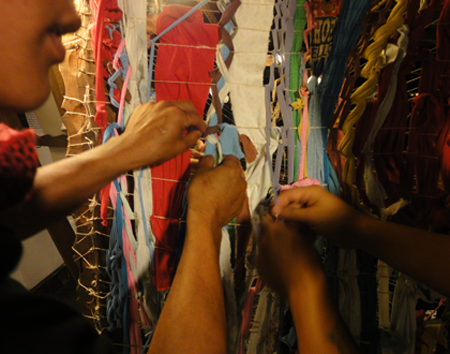 I was at a meeting with the Connecticut Office of the Arts to brainstorm the CreateHereNow project when one of the team members told us there was just a shooting in Newtown. The news rattled us, like it did the rest of the country.
Coincidentally, the people with whom I was meeting, Margaret Bodell and Rod Franz, would later be spearheading the organization of Healing Newtown an effort to facilitate support and coordinate arts-focused contributions to benefit those affected by the tragedy. While developing a strategy for Healing Newtown, Margaret and Rod thought of PictureThis and how our studio can help.
I was put in touch with their Executive Director, Lisa Scails (of the Cultural Alliance of Western Connecticut), who was attempting to operate at an extremely high level while dealing with a tragedy in her home town.
Like everyone, I wanted to help. Lisa walked me through what they felt they needed. I was able to provide suggestions and the capabilities to implement them.
Before long, I was dubbed the official Art Director for Healing Newtown. So far we have produced a logo, various graphic design and branding tasks, an ad in ArtScope Magazine, and a rich and dynamic website. The heart of their online presence is an artist submission form where people can plug in their contact information and choose a type of commitment. Depending on their donation type, different members of the Healing Newtown team are notified so that they can organize the many contributions.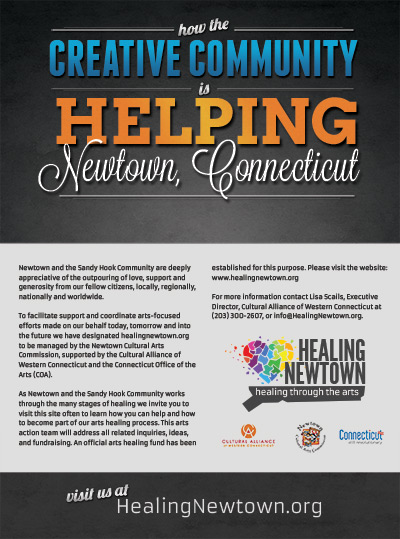 Ad for Artscope Magazine
As I write this, there are 249 names collected through the form. That number grows every day. Each submission is a meaningful donation of artwork for auctions, performances to raise funds, or a commitment of time from a member of the creative community. Newtown has been overwhelmed with the good deeds of others, and the PictureThis team continues to proudly facilitate and assist in our own small way.